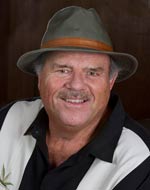 Daniel Danbom
www.QuicksilverImages.com | Photography by Daniel Danbom
Photographer Daniel Danbom has been a photographer on the Monterey Peninsula for many years. Dan and his sister owned Quicksilver Fast Photo a consumer photo lab in downtown Pacific Grove for 20 years. He had a gallery area where he sold local scenic photography, and his "Danigraph" branded photo note cards. In addition to the retail sales of his Danigraph Photo Note Cards, he had wholesale clients as the General Store, at Asilomar Conference Center, the former "Reflections" at the Lodge at Pebble Beach, Sand Pebble Gift Shop, the gift shop at Monterey Peninsula Airport.
Some of his stock, event, advertising and advertorial photography has appeared as Cover shots for Go Magazine that featured Pacific Grove's "Good Old Days." Dan has contributed many of the tabloid, poster and advertorial photos for "Good Old Days." Also advertising and promotional images for local business promotions. His photos have been featured in client ads for Carmel Magazine and the CSAA Via Magazine. His Concorso Italiano photos have been used on the official Concorso Italiano website, and in the glossy Concorso Italiano Event Program. He has had advertising or editorial photos in publications that include Carmel Pine Cone, Adventures Monterey Bay Magazine and Monterey County Weekly, Cycle News and others.
Dan was named Listeners' Choice "Best Photographer" of 2010 by the Listeners of the Clear Channel Radio Stations of the Central Coast. The five Clear Channel affiliate stations have the largest combined listening audience of 250,000 serving the Central Coast. The award was presented by Clear Channel Marketing Consultant Tamara Swanson. Listeners "wrote in" Daniel's name as "Best Photographer" on the Radio Stations' "Best of the Central Coast" web survey. There were over 90 categories for listeners to select the "Best of" through their "write in" nominations. Daniel received the most votes in the "Best Photographer" category.
Photographer Daniel Danbom - Listeners' Choice
"Best Photographer" of 2010, Best in the Central Coast.
For more information about this award.

Please email or call for rates. Also call or email for more information or to discuss particular projects, graphic design, or photo-ad design needs.
Photography by Daniel Danbom
P. O. Box 31 | Pacific Grove, CA | 93950
(831) 375-4833 | DBA Quicksilver Fast Photo
Other business websites: Quicksilver Fast Photo & Danigraph.com